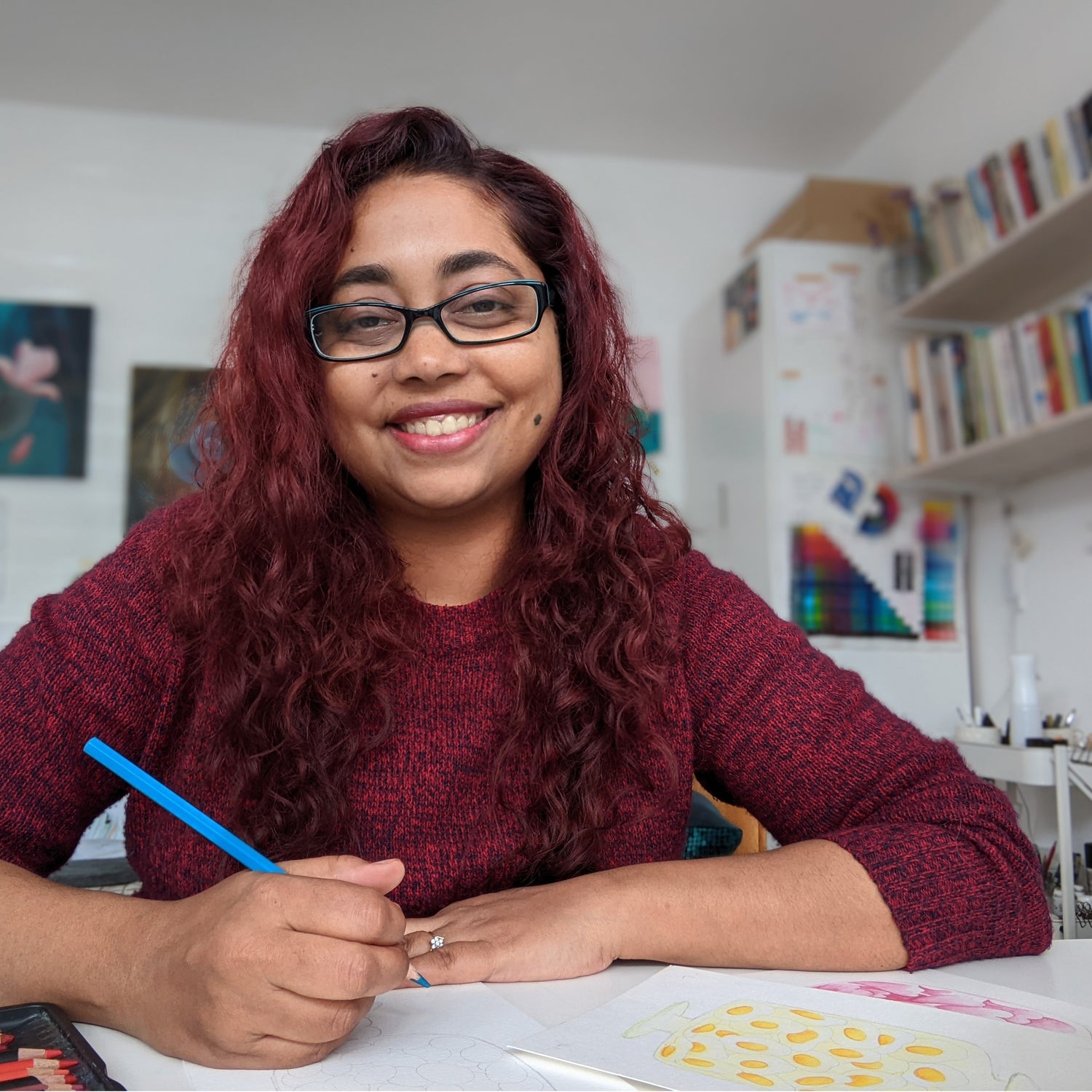 Hi, I'm Arati!
I am an Indian-British freelance book designer and illustrator based in London, UK with over 20 years of experience in the publishing industry. 
WORK WITH ME
My clients and I have long-term working relationships. The list has included Worth Press Ltd, World Book Media, Harper Collins India, Oxford University Press India and independent authors.
Based in London and working remotely, with clients world-wide, I specialise in designing trade illustrated titles, craft books and book covers. Illustration services are also available.
To work with me or to request a more detailed portfolio and CV, please email me (Arati) at info@aratidevasher.com
Publishing Next's Book Cover of the Year 2015 awarded to the designer Arati Devasher for cover design and illustration of The Sibius Knot by Amrita Tripathi, published by Harper Collins India, art directed by B.V. Shimray. 

"For developing a compelling illustration, which, along with the use of appropriate colours, fonts and design, best conveys the feel of the book."

Award for Excellence in Publishing: First Prize 2006–2007 presented to the publisher, Niyogi Books, for the cover of "Field Marshall KM Cariappa" in category Jackets, English.
CLIENT TESTIMONIALS
My latest book, a 350 page family history with over 250 photographs and drawings (published in January 2020), was designed by Arati Devasher with remarkable skill, artistic imagination and sensitivity: it looks magnificent and I have been absolutely delighted with her work. Her approach is extremely consultative, she has always been happy to make even the smallest changes at any time, and she is also an excellent communicator, the key to building a confident relationship between author and designer. The whole presentation of the book has excited the most enthusiastic comments from everyone who has read it. I would never want another book of mine to be designed by anyone else.
—Richard Barber / author
Arati has designed three programmes and two leaflets, all for Pan Intercultural Arts. The schedules have always been challenging and I have invariably asked her to source images. Arati has been responsive, open to feedback, and her excellent design has helped Pan to make a professional presentation at the three events. Arati is a joy to work with and I warmly recommend her.
— John Wallace / PAN Intercultural Arts
Arati is a fabulous designer. In designing one of my books she hit the mark first time, creating a cover and layout that truly reflected the contents of the book. She was infinitely flexible and ready to accommodate frequent changes in the script with an aways positive and innovative attitude.
—Mike George / author
Arati was great to work with and came up with a fantastic concept for a book cover. She's very creative but also receptive to any guidelines supplied.
— Eloise Cook / Pearson
Arati is a very professional book designer, great with deadlines and solving problems along the way. I enjoy working with her very much!
― Genia Patestides / World Book Media LLC
Arati is creative, meticulous and a pleasure to work with – her design work is thoughtfully and beautifully executed and she works fast too – always a bonus!
― Nandita Jaishankar Allana / editor
… Working within a pre-existing framework is not without its challenges, but Arati's flexibility overcame all structural obstacles. Turnaround time was excellent. Above all, Arati brought flair and lapidary precision to every aspect of the project. Our print-ready files bear witness to her professionalism.
― Adam Kolczynski / iAuthor
Arati has performed superbly for us on a number of projects and we will continue to use her skills on future titles.
― Rupert Webb / Worth Press
Arati is an excellent designer, and works very diligently at the projects she is involved in. She has a good temperament, and works well with people.
― Nissar Allana / TTA
Arati worked with me only for a couple of months. What struck me about her was the quality of her work. I can't remember an instance where we would need Arati to rework on anything she had submitted. Or remind her about deadlines, as she would always deliver what was required on or before time. […]
― Hoshie Ghaswalla / formerly of CyberMedia Services
Arati has been a very supportive colleague.She is very organised and methodical. Very receptive and open to ideas and suggestions.She is creative and techno savvy and always ready to help.
― Sneha Das / Head Designer at Roli Books
Arati is a result-oriented and a very competent designer with an eye for detail. What I've liked about working with her is that after a brief, she completes a project independently and ensures that she meets the deadline. She is extremely creative and focussed in anything she does.
― Atika Gupta / formerly of Roli Books
Arati is one of the few people I have come across who have the rare mix of qualities that includes professional skill, good attitude and a high degree of personal integrity. I was lucky to have her on my team. Our clients at Encyclopedia Britannica, both in India as well as Chicago, were also particularly […]
― Sanjay Jain / CyberMedia Services